Darrell Cox Racing has proven all season that the engine from the Dodge SRT-4 is a bulletproof starting point for a drag race engine. But recently, RaceDeck Racing has used a Darrell Cox engine to break numerous land speed records, proving that this A855 engine has what it takes to hold up to the rigors of long, high-speed runs in addition to short, wide-open passes down a 1/4-mile.

The team will again mount their salt assault this weekend during the World of Speed competition at the famed Bonneville Salt Flats.

In mid-August during the 55th annual Speed Week competition, RaceDeck broke two records their first time out with the Cox A855. Competing in the F Class (2.01 to 3.00 liters displacement), they smashed two former records by over 40 miles an hour!

In the F Class Blown Street Roadster division, driver Jorgen Moller recorded a 184.687 mph pass; the previous record was 142.825 mph. RaceDeck then removed the lights and blocked the grille of the '32 roadster and proceeded to break the Blown Gas Roadster with a 187.107 mph speed, which broke the old record of 146.887 mph.

The speeds are calculated for the full length of a mile. A speed is not made official until it is "backed up" or repeated on the return trip.

"The fact that this 600 horsepower engine can stay under load for two to three minutes is unbelievable!" said Moller, who is also the RaceDeck president. "We didn't make one run [of eight] that wasn't a world record." RaceDeck received the motor from Darrell Cox Racing just days before the event.

Next season, RaceDeck plans to campaign a 2004 Dodge SRT-4. "Our goal is to take an SRT-4 and break every four-cylinder class land speed record," Moller said.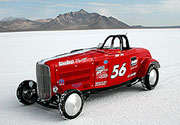 RaceDeck Racing heads back to the Bonneville Salt Flats this week with the 1932 roadster, above, to mount a further assault on various four-cylinder class, land speed records. The car is powered by a Darrell Cox Racing Dodge SRT-4 engine.

The team receives technical assistance from Mopar and Hinckley Dodge, the oldest continuously operating Dodge dealership in the country. The team has several members who are highly experienced in Salt Flat racing, including Jeff Nish and Larry Volk.