Mopar and Darrell Cox Racing helped power RaceDeck Racing to two new land speed records and joined the 200 mph club at the Bonneville Salt Flats during "Speed Week" competition last week. Driver Jorgen Moller has broken more than 10 records behind the wheel of a highly-modified 1932 roadster with a Darrell Cox-built Dodge SRT-4 engine putting out more than 600 horsepower.

Last week, Moller joined the 200 mph club and became the first person to take a four-cylinder roadster into the esteemed group. Moller's official speed was 201.088 mph. This pass broke his record from last season, which was 199.478 mph.

RaceDeck also broke an 18-year-old record in the blown fuel four-cylinder category, even though their car does not utilize exotic power adders like nitrous oxide and methanol. The SRT-4-powered machine uses ultra-high octane gasoline.

The new car in the RaceDeck stable was a Dodge SRT-4 which retains a great deal of production pieces, including body panels, glass, engine block, crankshaft and more.

"We are very happy with the way the stock body handled at the speeds we ran during our shakedown and test runs of 170 to 190 mph averages," Moller said. "The car really drives like it is on rails. The Mopar Stage 3 suspension package that we have on the car seems to handle the speeds extremely well.

"The SRT-4 is a great template to start with, and with Darrell Cox building these highly powerful and reliable Mopar engines and the Hinckley Dodge / RaceDeck team setting up the car, it makes it a lot easier for us to put down record passes. RaceDeck / Hinckley team makes sure the setup is on target and this Mopar-powered SRT-4 just goes!"

The team receives technical assistance from Mopar, Darrell Cox Racing and Hinckley Dodge, the oldest continuously operating Dodge dealership in the country, located in Salt Lake City, Utah.

The next event on the Salt Flats is the World of Speed, scheduled in just three short weeks, Sept. 19-20. RaceDeck hopes to break the record for production four-cylinder vehicles, which currently stands at 202 mph.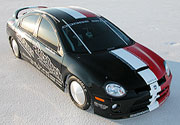 Just when you thought Mopar couldn't possibly be involved in yet another type of racing, check out the Bonneville Salt Flat punishers from RaceDeck Racing. The Dodge SRT-4 above had no problem running speeds above 180 mph for extended periods during its first visit to the Flats.

"We are confident that the Dodge SRT-4 in stock body form can handle speeds well above the 200 mph mark," said driver Jorgen Moller.

"These motors are just unbelievably reliable ... there are a lot of big dollar teams out there that can make one fast pass, but can not back it up."